Skycrapers are rising rapiding around the world which continuously transform the skyline of the cities., However, the repairs and maintenance of these high-rise buildings are becoming more and more difficult. Who can safely perform the job? Will there be a friendly neighborhood spiderman? Of course not.
Recently, a team of Chinese researchers at Shenyang Institute of Automation of the Chinese Academy of Sciences have designed a contact aerial manipulator system which shows high flexibility and strong mission adaptability.
They released this finding at the 2019 IEEE/RSJ International Conference on Intelligent Robots and Systems (IROS 2019), an international conference in robotics and intelligent systems held during November 4th to 8th 2019 in Macao.
Traditionally, the regular inspection of high-rise buildings with glass curtain walls are conducted by humans with gondola systems, which can be very dangerous, costly and inefficient.
The new robot is composed of a one degree-of-freedom manipulator cube-frame end-effector and a hex-rotor UAV system. A new scheme is designed so that the whole system's contact force can be controlled precisely without any force sensors.
The system of this robot, including a rotorcraft unmanned aerial vehicle and a robotic manipulator, can conduct interactive operations while in flight. Compared with the general wall climbing robots, it is capable of avoiding obstacles or even jumping over grooves on wall surfaces,"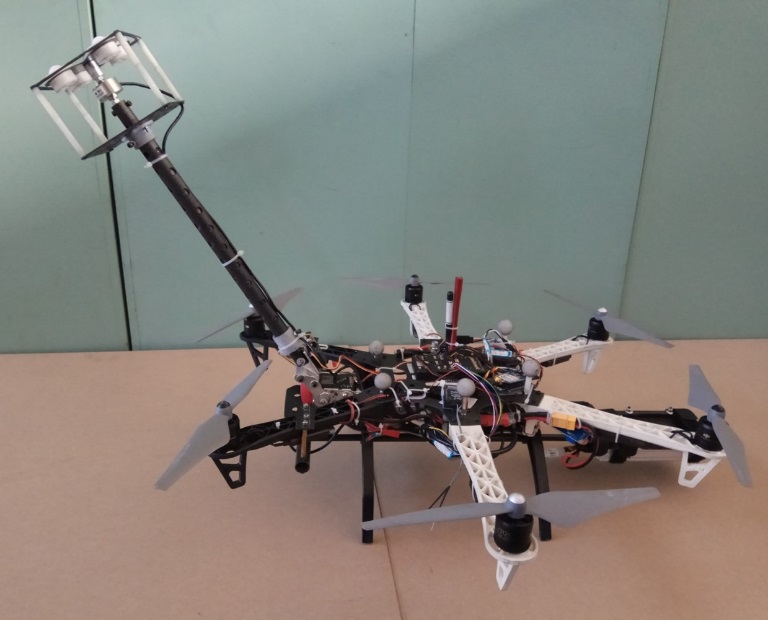 The contact aerial manipulator system. (Photo by MENG Xiangdong)
"How to control the force is considered the most difficult, since flying robots usually are sensitive to external force. To realize this objective, we first make a flying robot with closed loop control behave like a regular spring system, and then the elastic coefficient is easily changed by changing the control parameters. It means that we can take the robot as a spring system so that the contact process can be safe enough," said MENG Xiangdong, the designer of the robot.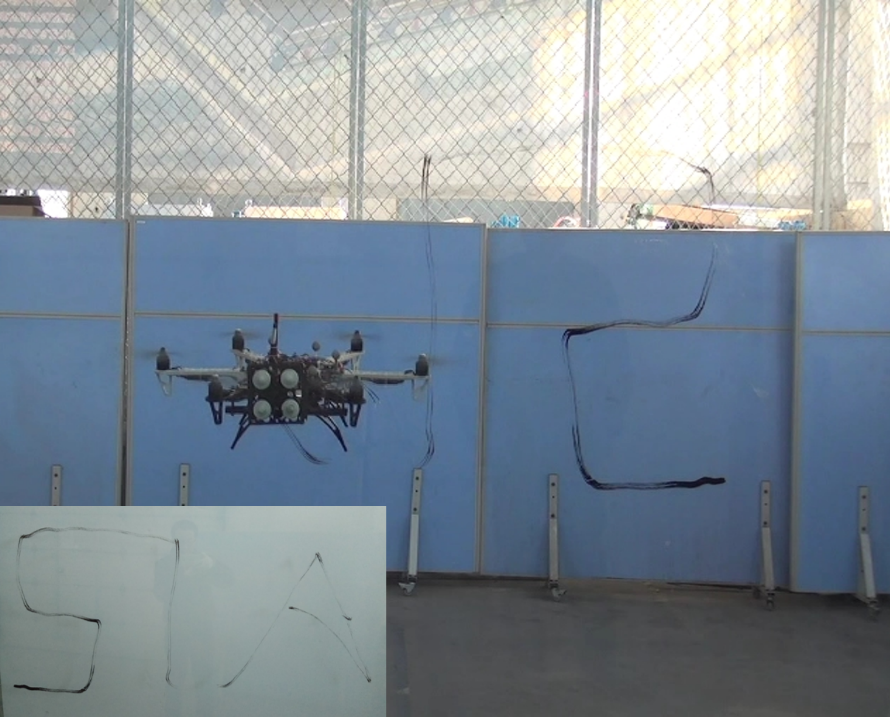 The aerial writing task. (Photo by MENG Xiangdong)
Besides, the research team has conducted experiments to test the capacity of the system. In the first experiment, a light switch is fixed on a wall and the robot is required to press the button so that the light can be turned on or off. Results showed that the robot can safely and smoothly operating the switch via precise force control. In the second experiment, the robot shows smooth movement along a glass wall, with a fixed pressure force. With a pen fixed at the end of the aerial manipulator, the robot writes a SIA (short for Shenyang Institute of Automation) on the glass wall.