Redundant star topology of WIA-FA (Photo by LIANG Wei)
WIA-FA defines a group of physical devices, each capable of fulfilling one or more functions. The physical device of WIA-FA includes host computer, gateway device, access device, field device, and handheld device. A redundant star topology is defined for WIA-FA. The redundant star topology is formed by the gateway device with multiple access devices, where each access device further forms a star topology with multiple field devices. The access devices of WIA-FA do not directly communicate with each other but communicate with the gateway by wired connection. Therefore, all access devices are synchronized with the gateway. The access devices are with the same address and transparent for field devices. A field device may connect with multiple access devices wirelessly.
"The AGVs have become the killer application of WIA-FA networks, especially in warehouse and logistics" said LIANG Wei, the leading researcher of the study. The fast mobility of AGVs calls for advanced wireless technologies for the networking of an AGV system. WIA-FA has been running stably and successfully on AGV scheduling system in Yunnan KSEC Intelligent Equipment Company, Ltd., which is the second largest AGV Company in China since January 2017. The average traffic data flow of each AGV could reach up to 100 Kbyte/s, with transmission reliability above 99.99%.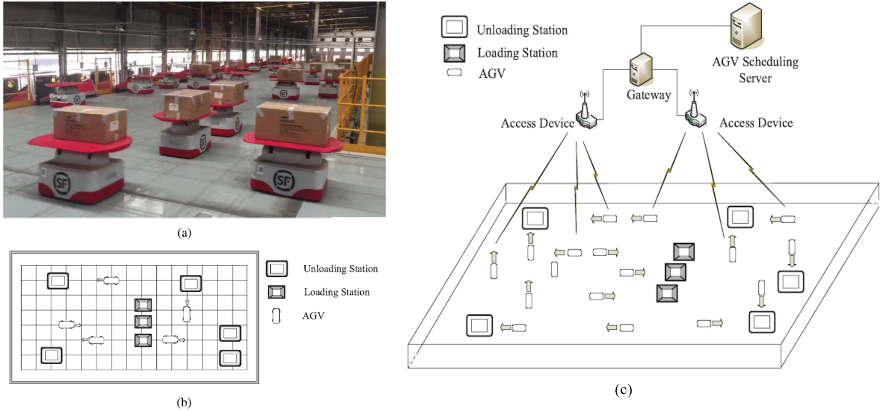 WIA-FA for AGV logistics sorting. (a) Field environment. (b) System layout. (c) WIA-FA network architecture (Photo by LIANG Wei)
Another representative application of WIA-FA is the remote monitoring of industrial robots on the production line in the digital workshop of the SIASUN Company, which is the largest industrial robot company in China. WIA-FA is configured to wirelessly transmit the operating parameters such as working voltage, current, motor temperature, rotation speed to the main control cabinet. The deployed WIA-FA network has been stably running for more than two years.

WIA-FA for industrial robot remote monitoring. (a) Field environment. (b) WIA-FA network architecture (Photo by LIANG Wei)
"WIA-FA also has great application potential in the cooperation of multiple industrial robots, for example when multiple AGVs are required to carry large and complex components." said LIANG. Under such scenario, the master AGV is equipped with two WIA-FA field devices: one for the communication with the AGV scheduling server and the other for the cooperative communication with other slave AGVs. After being grouped, all the motion information of the slave AGVs in one group including the location, speed, and acceleration are periodically reported by their master AGV to the AGV server.
The communication system of multiple cooperative AGVs (Photo by LIANG Wei)
Equipment developed based on WIA-FA have received the Federal Communications Commission (FCC) certification of the United States in 2019, after being granted Certification of Compliance (CE), Restriction of Hazardous Substances (ROHS) by the European Union in 2017 and Radio Transmission Equipment Type Approval Certificate (RTETAC) by State Radio Regulatory Committee (SRRC) of China in 2016.

Certificates for WIA-FA. (a) FCC. (b) CE. (c) ROHS. (d) RTETAC (Photo by LIANG Wei)
"WIA-FA solution has made breakthroughs in tackling bottleneck problems as high concurrency, anti-interference and hard real-time, etc. WIA-FA solution takes the lead and will certainly play an important role in the technology upgrading of factory automation." said Ruby Belliardi, the secretary of IEC/TC65 (technical committee under the IEC to prepare international standards for systems and elements used for industrial process measurement, control and automation) .
Contact:
LIANG Wei
Photo: 86-24-23970198
Email: weiliang@sia.cn