China's unmanned submersible Qianlong No. 2 has applied its new capabilities in the latest exploration in the southwest Indian Ocean, scientists told Xinhua Monday.
The Qianlong No. 2, China's self-developed 4,500-meter-level autonomous underwater vehicle (AUV), has conducted five dives during its journey on the second section of the country's 49th ocean expedition, said Tao Chunhui, chief scientist on the project.
The AUV used two of its new capabilities on the mission: operating without monitoring from its mother vessel, and taking multiple acquisition sensor modules onboard during the dives, according to Tao.
It thus acquired a mass of data on distribution characteristics such as three-dimensional terrain, regional water abnormity and geomagnetism near the seabed.
With a length of 3.5 meters, height of 1.3 meters and width of 0.7 meters, the Qianlong No. 2 was independently designed by Chinese scientists and can dive to a depth of 4,500 meters.
It has cruised 325 kilometers in a total of 141 working hours during its journey on the second section of the expedition, which concluded Monday.
Its mission was to detect polymetallic sulfide deposits in the exploration area in the southwest Indian Ocean.
On March 2, the Qianlong No. 2 attempted the new capability of working without the monitoring of its mother vessel for the first time.
Chinese scientists released an unmanned monitoring platform, which can navigate autonomously and monitor the AUV's actions.
"Therefore, the underwater operations of the Qianlong No. 2 could be well monitored and its mother vessel free to conduct other missions," Tao said.
"When the work of Qianlong No. 2 was done, its mother vessel would come back and collect it from the water," he added.
In addition, it carried multiple acquisition sensor modules onboard during its missions under the sea, enabling scientists to collect richer data by adding various sensors to the vehicle.
"Its newly-conducted capabilities have reached our forecast after the preliminary applications. New capabilities will be improved and upgraded in the following applications," said Li Bo, head of the research group of the Qianlong No. 2.
The Qianlong No. 2 has been under development since 2011, and was unveiled in October 2014.
It was mainly developed for the exploration of deep-sea mineral resources, as a comprehensive system with integrated technologies in minor landform changes detection, a seabed camera and magnetic survey capabilities.
The AUV can detect waters rich in sulfide deposits that contain various metals, and deep-sea terrain, as well as photograph sulfide, basalt and marine organisms.
The trial exploration in the Indian Ocean in 2016 proved that the AUV can practice deep-sea mineral resource investigation. And it can adapt to the complex terrain in the ocean and finish underwater tasks.
It will conduct underwater detection missions on minor landforms, water abnormity and magnetic surveys in a working area total of about 300 square kilometers in the second and third sections of the expedition, according to Li.
The first sea trial of the Qianlong No. 3, an upgraded version of the Qianlong No. 2, is expected to be conducted this April. (Xinhua)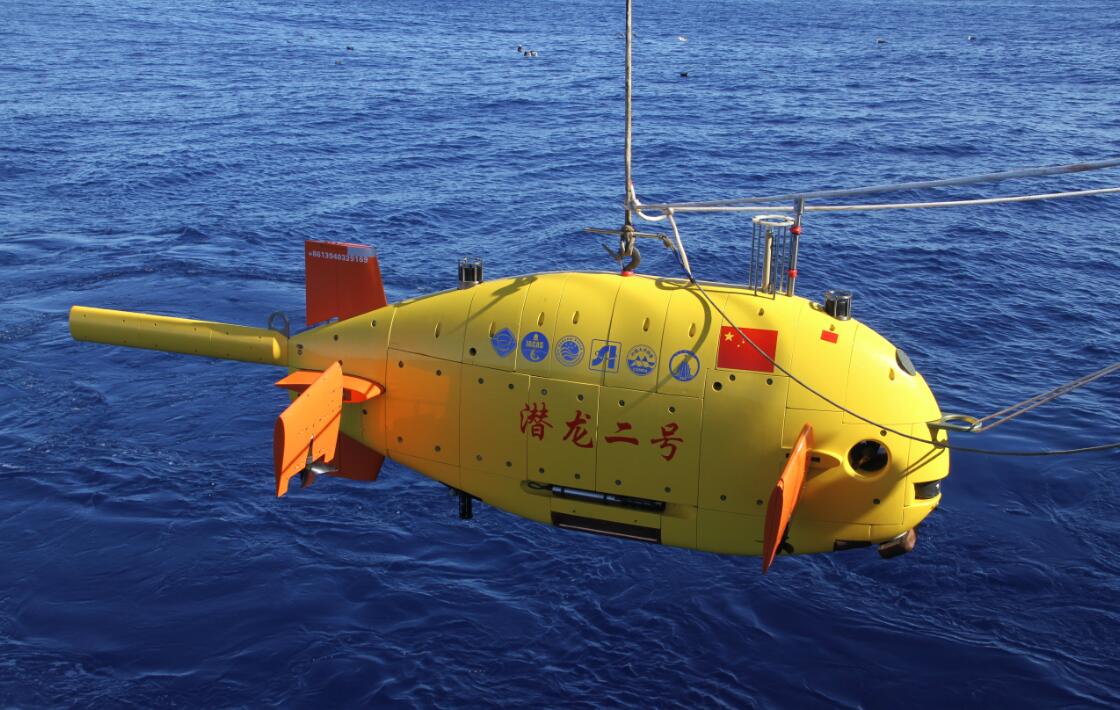 Qianlong No.2 AUV (Image by SIACAS)