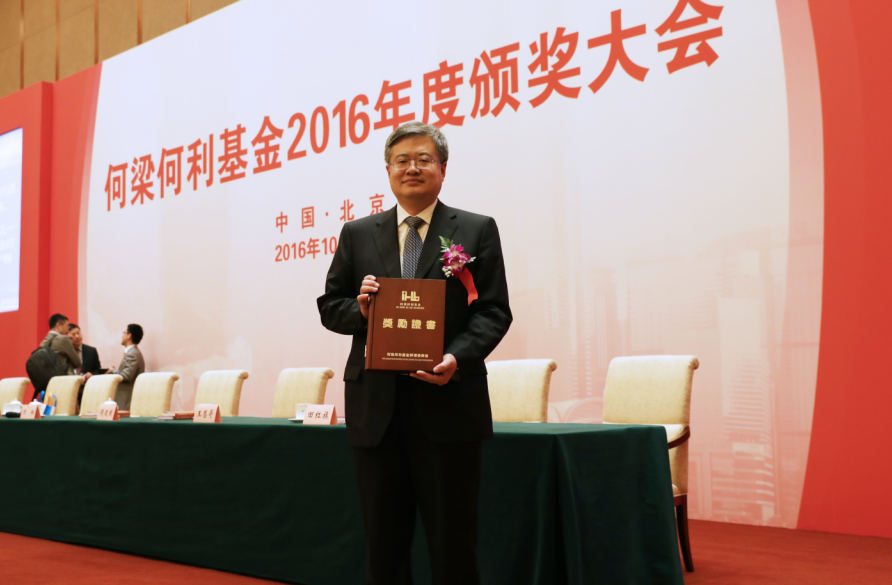 Yu Haibin holding the certificate after the ceremony. (Image provided by SIA)
Yu Haibin, director of Shenyang Institute of Automation (SIA), the Chinese Academy of Sciences (CAS) won the 2016 Ho Leung Ho Lee Foundation (HLHL) Science and Technology Progress Award for his contributions to the field of industrial automation technology. The awarding ceremony was held on October 21st, 2016 in Beijing, China.
Ho Leung Ho Lee Foundation was established by four patriotic financiers of Hong Kong: S. H. Ho, Leung Kau-Kui, Ho Tim, and Lee Quo-wei in1994, which aims at rewarding outstanding Chinese scientists, promoting China's progress and innovation of science and technology.
This year, a total number of 51 scientists were honored the HLHL award, among whom one received Science and Technology Achievement Award, 35 received Science and Technology Progress Award, and 15 received Science and Technology Innovation Award.
Source: Office of General Affairs