The model of jointly-developed intelligent assembly lines by China and Germany, which can help companies quickly produce tailor-made products by leveraging robots and software, caught the eyes of German Chancellor Angela Merkel during her visit to Shenyang, capital of Liaoning Province on June 14th, 2016.
The model line is a result of cooperation between Shenyang Institute of Automation (SIA) of the Chinese Academy of Sciences (CAS), and SAP, a German software power. The concept of the model line perfectly echoes the idea of integration between the strategies of "Made in China 2025" and "Industry 4.0," raised receptively by China and Germany, according to Yu Haibin, director of SIA.
The model line integrates technological advantages of both SIA and SAP. Several key technologies in industrial internet of thin gs developed by SIA were employed in the model line. The whole system can realize scale production of customized products, dynamic adjustment of manufacturing process based on real-time change of orders, and dynamic adjustment of the system based on predictive maintenance.
SIA and SAP singed a strategic cooperation memo to further their cooperation during the Chinese-German Forum for Economic and Technological Cooperation, on June 13th, 2016, one day before Merkel visited the model line in Shenyang.
According to the memo, the two sides will jointly pursue integration of their technologies and standards, as well as explore more markets, in order to come up with intelligent manufacturing standard and products that embody both Made in China 2025 and German Industrial 4.0.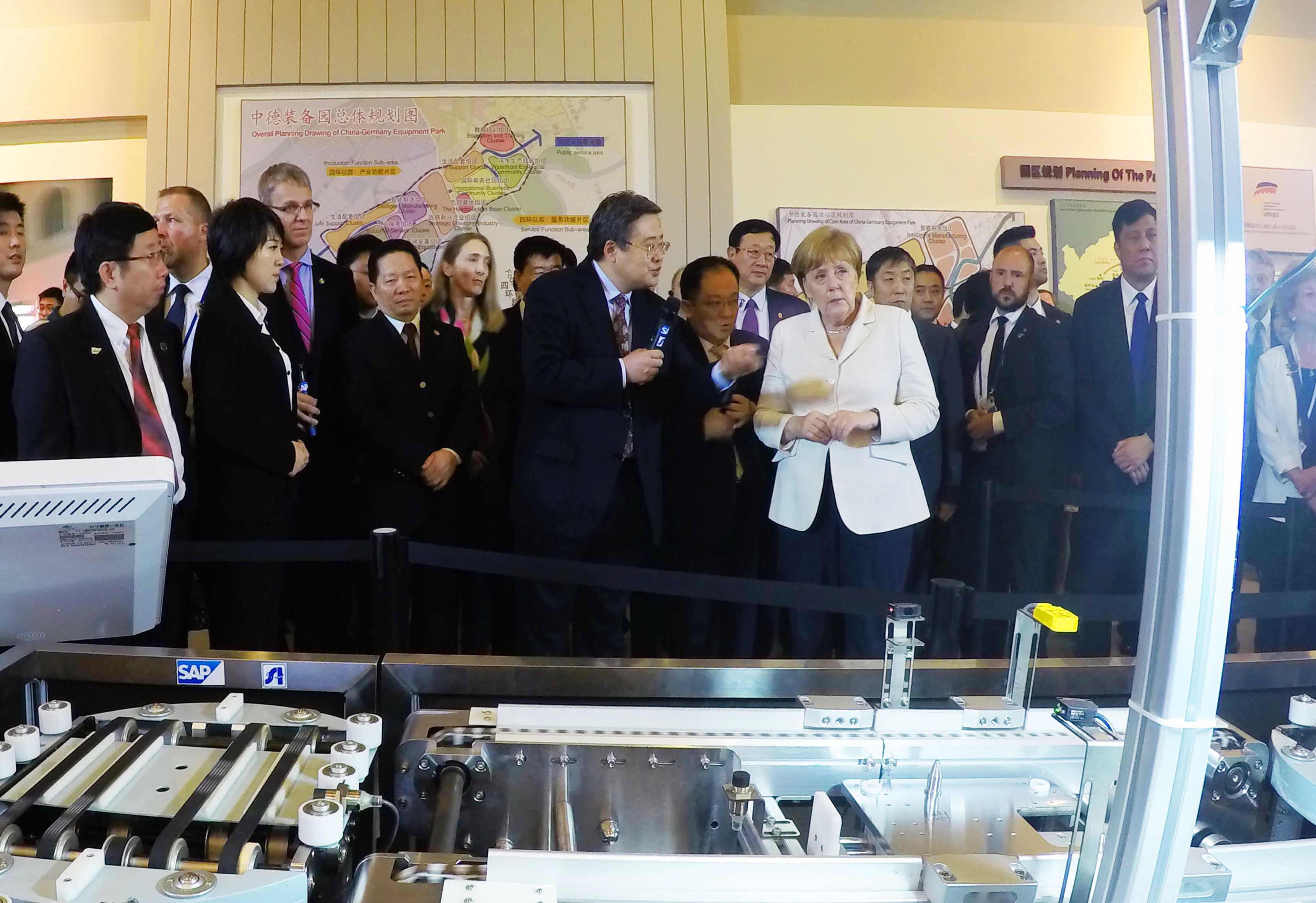 Yu haibin introduce the techniques of the model line to Merkel (Image provded by SIA)
Source:Industrial Control Network and System Department, Office of General Affiars