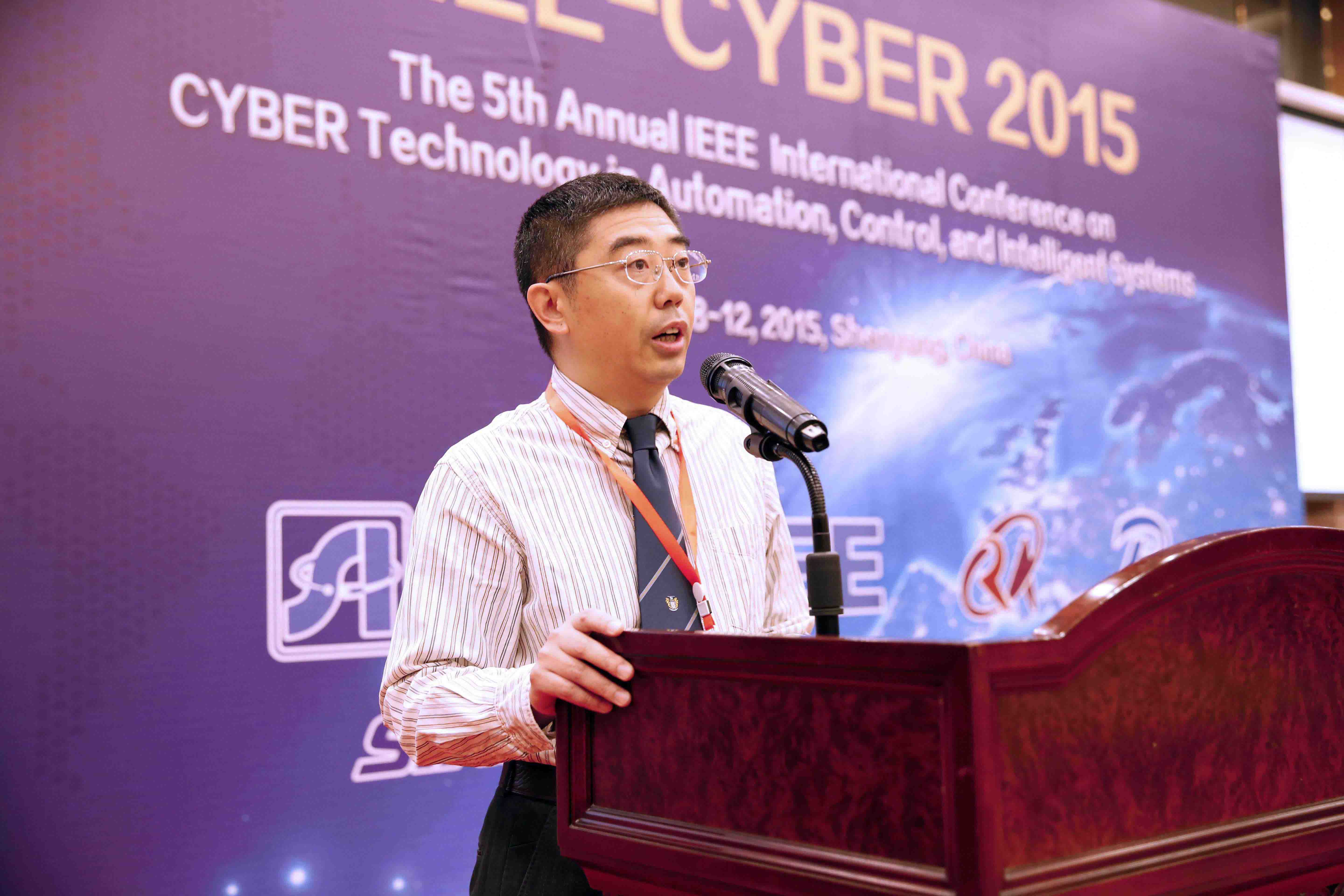 Han Jianda chaire the opening ceremony (Image provided by SIA)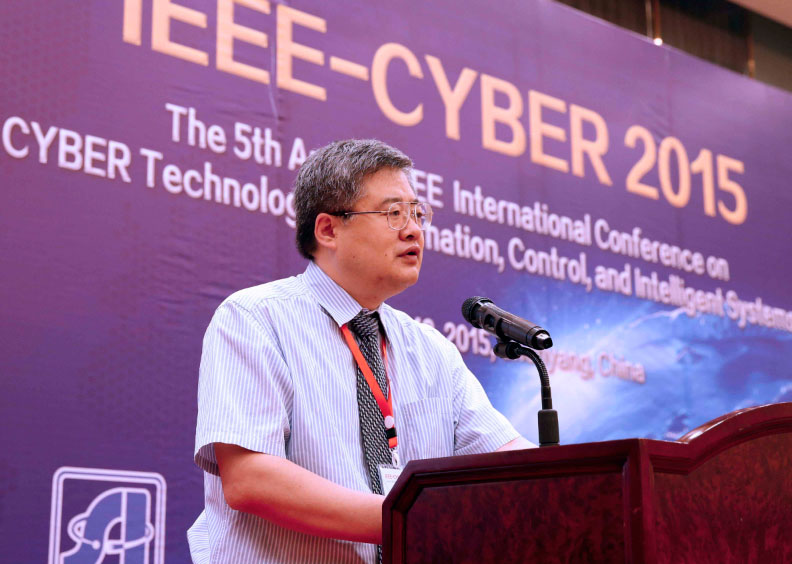 Yu Haibin delivered welcome speech (Image provided by SIA)
Xi Ning made report during plenary talk (Image provided by SIA)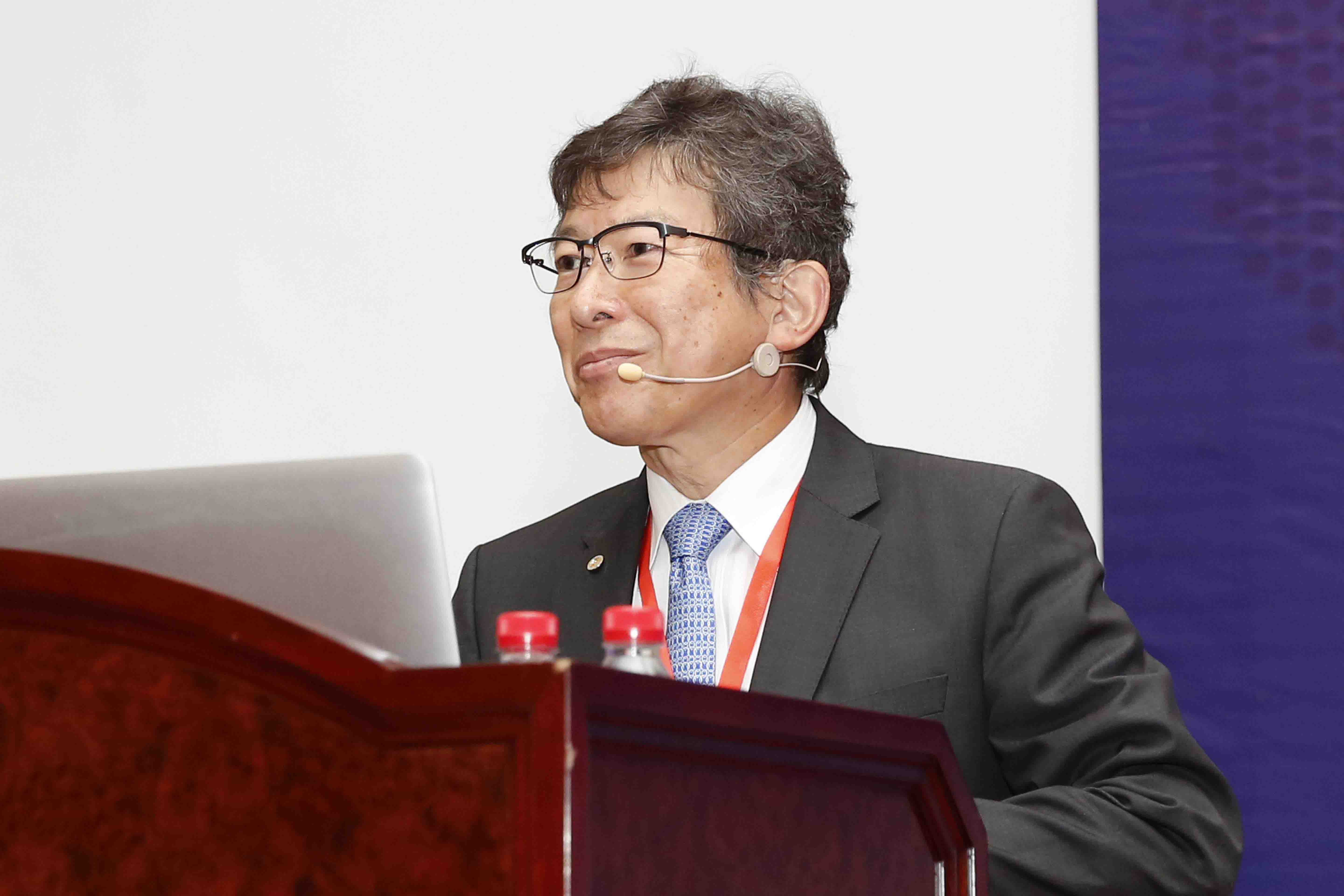 Kazuhiro Kosuge made report during plenary talk (Image provided by SIA)
"The 5th Annual IEEE International Conference on CYBER Technology in Automation, Control and Intelligent Systems" (IEEE-CYBER 2015) commence in Shenyang on June 9th, 2015, gathering nearly 400 experts from well-known universities and research institutes both at home and abroad.
Tenured professor Tzyh Jong Tarn at Washington University, professor Kazuhiro Kosuge from Tohoku University in Japan, professor Toshio Fukuda at the Nagoya University in Japan, professor Dennis Hong from the University of California, Los Angeles, vice president Dr. Ralf Koeppe from Bosch Rexroth AG Corporation in Germany, president Dr. Qu Daokui from SIASUN Robot & Automation Co., Ltd. in Shenyang, deputy general manager Zhang Yanwu from Microcyber Corporation in Shenyang, and other distinguished experts and scholars in the field of robots at home and abroad, automation and Internet of Things attended the opening ceremony.
Han Jianda, vice-president of the conference and executive deputy director of the State Key Laboratory of Robotics, chaired the opening ceremony.
Yu Haibin,president of the conference and director of SIA delivered the welcome speech. He said that the rapid development of a new generation of information technology, such as big data and Internet of Things, had brought unprecedented opportunities tothe manufacturing and would play a key role in the realization of strategy of "Internet +". Currently, under the guidance and support of national strategies and plans, the undergoing construction of "Robotics and Intelligent Manufacturing Innovation Institute, Chinese Academy of Sciences" can advance the developmentof China's robotic industry by combning robotics and intelligent manufacturing.
Then, Tzyh Jong Tarn and Kazuhiro Kosuge respectively made remarks for the conference.
Xi Ning, professor from Michigan State University and Kazuhiro Kosuge gave reports named Compressive FeedbackControl: Compressive Sensing beyond Sensing Toward Universal Manipulation during plenary talk session on the first day of the conference.
IEEE-CYBER is a series of international conferences organized by Institute of Electrical and Electronics Engineers (IEEE) and is held annually. At present, it has been successfully held for four times. The conference of this year will be hosted by the Shenyang Institute of Automation, Chinese Academy of Sciences. The participants will present their latest research progress and exchange ideas around four major topics, including cyber physical ystems, network controls and automation, network and robotics, Internet of Things and sensor networks, through plenary talks and panel discussions, etc, during the conference which will end on June 12th.
The IEEE-CYBER 2015 served as a dialogue and idea-sharing platform for the experts in the field of intelligent system about automation, control and robotics, and played a positive role in promoting the combination of mobile Internet, cloud computing, big data, Internet of Things and other things and modern manufacturing, the implementation of the strategy of "Internet +", and the application of manufacturing. At the same time, the conference deepened exchanges and communication between universities and research institutions at home and abroad in scientific research, personnel training and other fields.
Source:Robotics Laboratory, Office of General Affairs