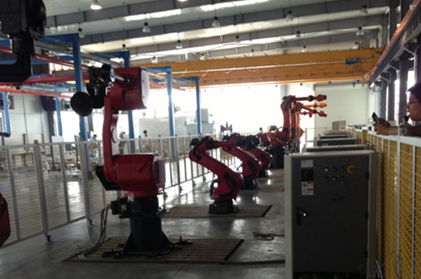 WIA-FA application (Image provided by SIA)
The Wireless Network for Industrial Automation – Factory Automation (WIA-FA) , of which the R&D is presided over by Shenyang Institute of Automation (SIA), the Chinese Academy of Sciences (CAS), has been approved by International Electrotechnical Commission (IEC) as publicly available specifications (IEC/PAS 62948) recently. It has become the world's first wireless technology standard for factory high-speed automatic control application.
SIA also presided over the R&D of Wireless Networks for Industrial Automation Process Automation (WIA-PA), which was approved by IEC as publicly available specifications (IEC/PAS 62601) in 2011. These two standards have formed a comprehensive basic technology system of industrial internet of things, covering both processing industry and discrete manufacturing industry.
WIA-FA is an important enabling technology to realize on-line reconfigurable automatic production line in factory. It can help promote the transformation of manufacturing industry from traditional low-cost mass production mode to high-end high added value Individuality Production Mode.
Source: Industrial Wireless Network and Systems Department