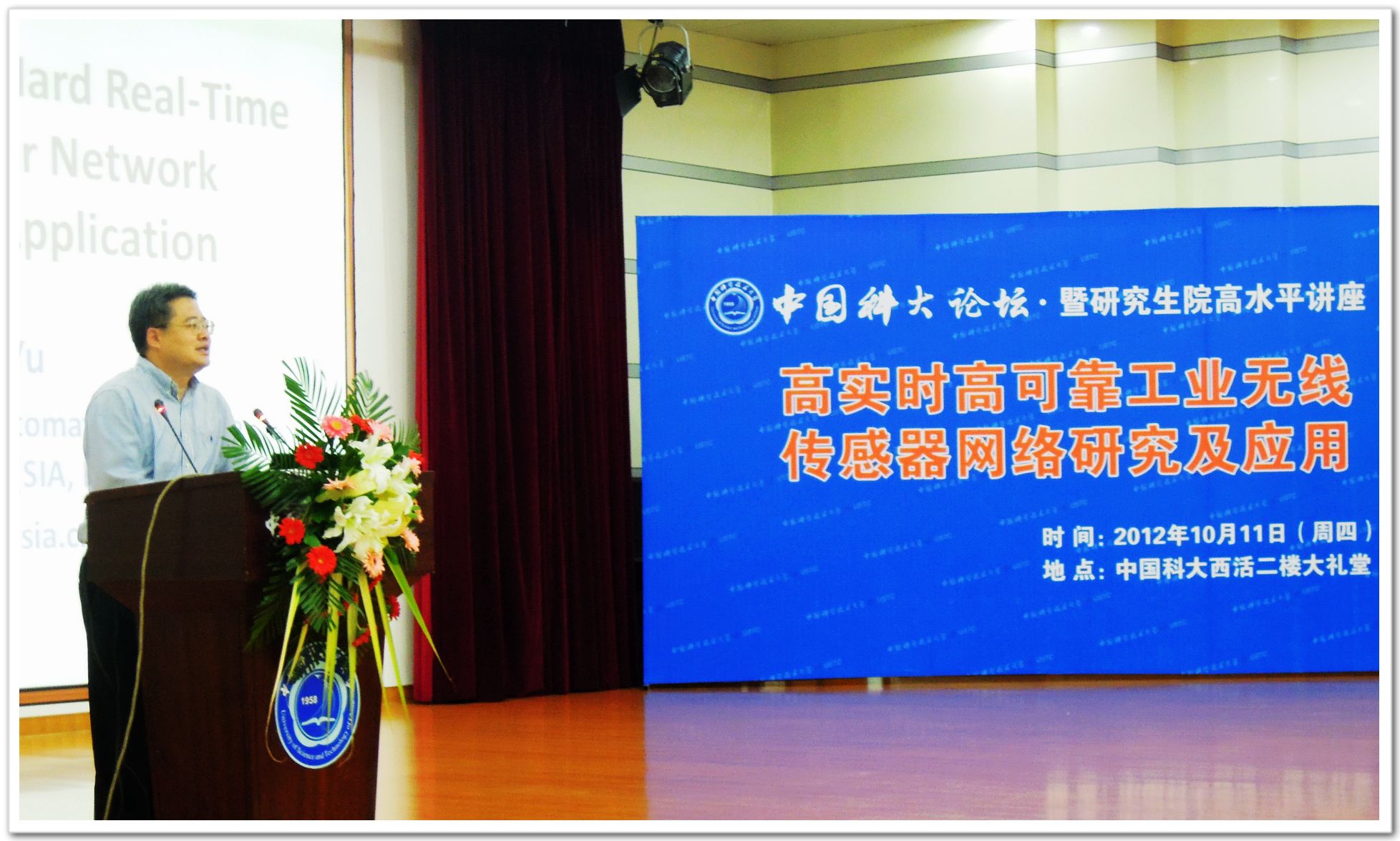 Prof. Yu Haibin, director of SIA is giving a report at the University of Science and Technology of China. (Image/SIA)
Prof. Yu Haibin, director of Shenyang Institute of Automation (SIA), Chinese Academy of Sciences (CAS) was invited to give a report named The Research and Application of High Real-time and High Reliability Industrial Wireless Sensor Network at the University of Science and Technology of China on October 11, 2012.
In his report, Prof. Yu introduced the structure of industrial wireless sensor network, industrial wireless network design and optimization theory as well as the application prospect and challenges of the network. He considered the industrial wireless sensor network a revolutionary technology which can reduce the cost of industrial measurement and control system and enlarge the application of the system. Industrial wireless sensor network changes the information transmission mode of existing measurement and control system, and shows advantages of low cost, simple structure and high flexibility, with vast application potential. It has become another technology hotspot after the fieldbus technology. However, it faces new challenges, including stricter and more certain real-time, reliability and energy efficiency, according to the special needs of industrial measurement and control application.
As the Director of SIA, Prof. Yu is a doctoral supervisor, and a leading expert in industrial informationization. He is an International Society of Automation (ISA) Fellow. Domestically, he has received the China National Funds for Young Scientists, and is a standing member of the National High-tech R&D Program (863 Program), a board member of Council of Chinese Automation Association (CAA), a board member of China Instrument and Control Society. Prof. Yu has published over one hundred papers. With the support of China's national key scientific and technological project, he has achieved breakthrough in the research on new instrument control system.