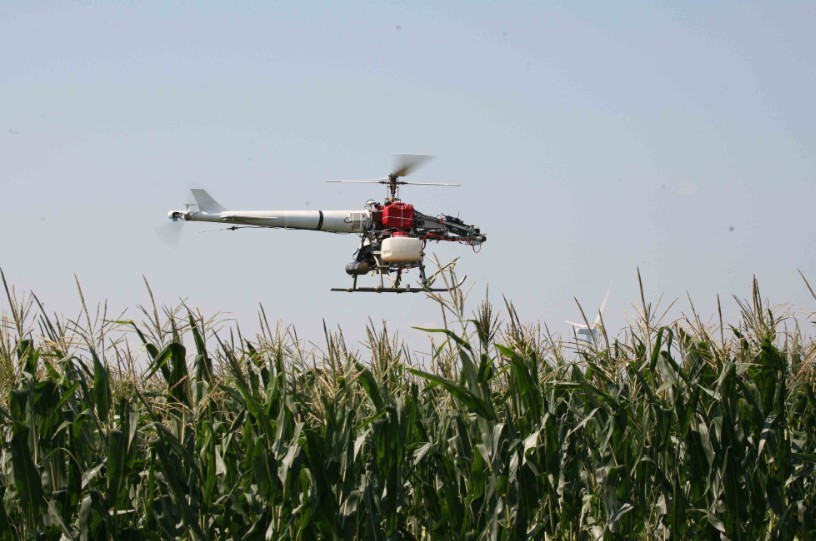 The rotorcraft UAVs developed by SIA was conducting pesticide spraying task over corn fields. (Image/SIA)
In eary August this year, maize armyworm invaded some part of Northeast China. According to reports from the Departments of Civil Affairs of Liaoning Province and Jilin Province, up until 9 a.m, August 14, all together 1,109,000 people had suffered from the plague, and infested area had amounted to 302,800 hectares in four cities and counties around the city of Shenyang, Liaoning Province and seven counties and districts in Jilin Province. Of the infested area, about 30,000 hectares yielded zero, causing economic loss of around 790,000,000 RMB (about 124,346,000 USD).
In view of the severe situation of this year's plague, researchers from Shenyang Institute of Automation (SIA), the Chinese Academy of Sciences (CAS) headed for Woniushi Township in Shenyang's Faku County on August 12. They found out that almost all the corn leaves in the fields had been eaten out by worms. Meanwhile, the traditional artificial pesticide spraying method helped very little in battling the worms but can do harm to the health of farmers. In HoujiapuVillage only, the infested area amounted to around 2,500 acres.
The project team tailored an operation plan according to the situation, and successfully accomplished pesticide spraying over a large area on the premise of guaranteeing the spraying effect. During the operation, the rotorcraft UAVs (unmanned aircraft vehicles) developed by SIA conducted super low altitude and high density trace pesticide spraying at one meter height above the crops. This method can avoid direct body contact to the pesticide so that the safety of farmers can be guaranteed to the largest degree. It took the rotorcraft UAVs only half an hour to finish spraying pesticide of more than 20 acres corn field, while normally it would take two to three days for one person to finish the task. After the operation, on-site confirmation of the spraying effect was made, showing that the rotorcraft UAVs demonstrated obvious advantages in atomization effect, spraying efficiency and insecticidal effect, etc.
The pesticide spraying operation this year is the second time for the rotorcraft UAVs to be used in real application, after its first variable-rate pesticide spraying flight experiment in the Fourth Division of Xinjiang Production and Construction Corp last year. It further verifies the actual operation capability of the system when faced with breaking disaster, demonstrates the system's advantages and irreplaceability, and lays solid foundation for its promotion and application in the future. (Dai Tianjiao)