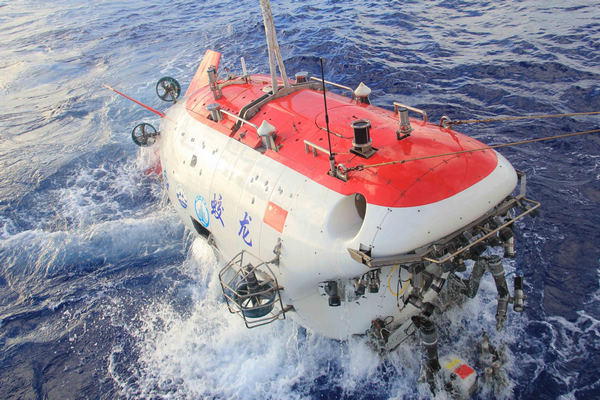 China's manned deep-sea submersible Jiaolong is lifted out of water after reaching 7,020 meters beneath the sea level. (Photo/Xinhua)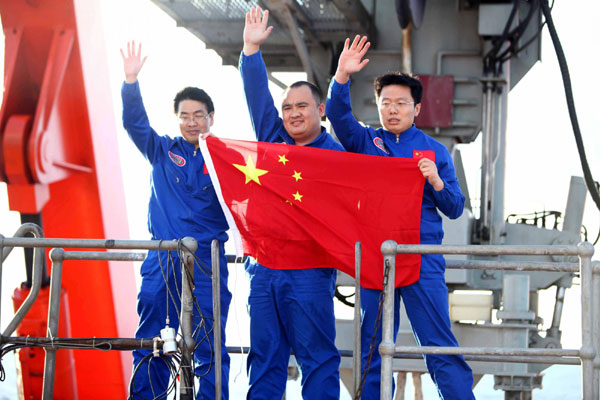 Liu Kaizhou (Left), Ye Cong (Center) and Yang Bo (Right) wave hands after Jiaolong returns from 7,020 meters beneath the sea on June 24, 2012. (Photo/Xinhua)
China's first manned deep-sea submersible Jiaolong succeeded in diving 7,020 meters below sea level in its fourth dive into the Mariana Trench in the Pacific Ocean on June 24, 2012, reaching the maximum diving depth among manned submersible of its kind in the world. Oceanaut Liu Kaizhou from the Underwater Robotics Department of Shenyang Institute of Automation (SIA), the Chinese Academy of Sciences (CAS) was on board during the task, together with another two oceanauts Ye Cong and Yang Bo.
According to reports, at 4:30 a.m. local time, June 24, a ceremony was held to send the oceanauts on their expedition, and Liu Feng, on-scene commander delivered a speech during the ceremony. At 5:24 a.m., Jiaolong was put into the ocean. The submersible began diving at 5:29 a.m. At 8:54 a.m., Jiaolong reached 7,005 meters, realizing the 7,000 meters maximum depth rating for the vessel. At 9:15 am, Jiaolong reached the depth of 7,020 meters.
Right after reaching the record depth, the three oceanausts sent greetings to the three astronauts, namely Jing Haipeng, Liu Wang and Liu Yang, who were expected to conduct a manual docking of the Shenzhou-9 spacecraft with the orbiting Tiangong-1 lab module. "We wish for a great success of the manual docking and brilliant achievements in China's manned space and manned deep-sea dive causes," said the oceanauts.
After accomplishing the tasks of collecting sea water and sediment samples, taking photos and recording videos, Jiaolong began dropping ballast and floating up at around 11:50 a.m. At 15:57 p.m., Jiaolong was lifted out of water onto the mother ship Xiangyanghong 09. It had succeeded in reaching depths of 6,671, 6,965 and 6,963 meters in its previous three dives from June 15 to 22, surpassing the record of 5,188 meters it had set up last July in eastern Pacific Ocean, according to China Daily. (Dai Tianjiao)