Bu Chunguang (right) and Chen Cheng (left) are responsible for field execution of the polar robot project. (Image provided by SIA)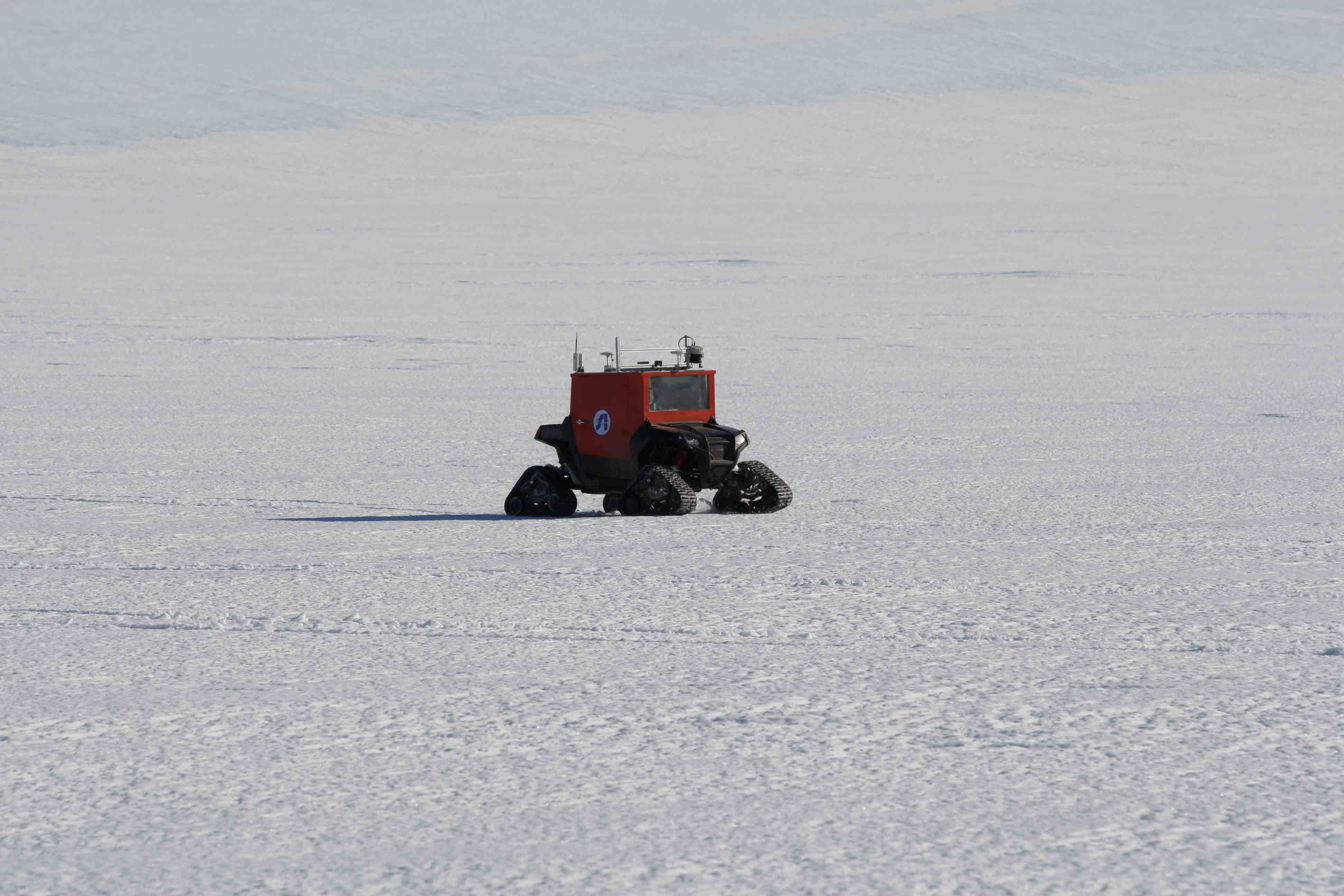 The long-range rover developed by SIA (center) is walking on the Antarctic continent. (Image provided by SIA)

After accomplishing the 30-kilometer autonomous walking experiment in the Antarctic, the long-range rover developed by Shenyang Institute of Automation (SIA), Chinese Academy of Sciences (CAS) returned to Shenyang recently.
Bu Chunguang, associate professor from SIA's State Key Laboratory of Robotics and Chen Cheng, doctoral student of the institute were responsible for field execution of the polar robot project. It is the second time for SIA's polar robot research team to set their feet on the Antarctic continent after their first mission in 2007. The field experiment lasted from December 9, 2011 to February 5, 2012. During this period, the team conducted tests and verification on the locomotion mechanism, environmental perception, autonomous control and ice radar integration of the robot, and successfully finished the 30-kilometer autonomous walking experiment, which is the first time for robots developed in China to continuously and autonomously travel such a long distance in the Antarctic.
According to follow-up arrangement, the polar robot team is planning to embark on the Antarctic continent for the third time, together with China's Antarctic scientific research team on the latter's thirtieth mission, and to formally conduct robotic application experiment in the Amery Ice Shelf of the Antarctic.
In the body design of the long-range rover, vibration-damping chassis, triangular pedrail, ackerman-steering, all wheel driver and fuel-driven technology are applied for the first time to ensure long-range, high-speed and stable walking, as well as high-efficiency driving and effective fuel utilization. In the design of autonomous control system, laser sensor with high rate and high resolution is installed. Algorithms and software for autonomous environmental perception, autonomous planning and control are developed, so that the tasks of drawing topographic map surrounding the robot, recognizing and avoiding obstacles and autonomous walking can be achieved smoothly. In the design of communication system, iridium data communication technology is employed to meet the demand of long-distance monitoring.
Polar scientific research is of profound strategic significanceto the world. However, the harsh field environment of the Antarctic could cause serious threat to the health and security of the researchers, and hinder the obtaining of research data. As a typical ground autonomous mobile robot, the long-range rover can independently transport various scientific instrument and equipment to the appointed area, assisting researchers in tasks such as meteorological sounding and ice layer thickness measurement. With its intelligence and autonomy, the robot can help or replace researchers in conducting large-range, long-time and long-distance field scientific research task, and is the development direction of the future. (Dai Tianjiao)